Over the coming days life in our city and society will face unprecedented challenges as we face the Coronavirus Covid-19 pandemic. At Belfast Cathedral we remain a place of christian faith, prayer and hope for these demanding days.
Following government guidance, our cathedral has been closed to Tourists and for public services of worship. However we invite you to explore this website and discover in the News Section information, prayers and support for these most challenging of days. Please also explore our Facebook page for streamed services and some more light hearted posts. Together we seek to be a Virtual Cathedral, drawing together a family of faith and hope within the promises of God.
Find Out More
00:00 - 00:00
No services at this time
Following government guidance issued on 20th March, and to minimise the impact of the COVID-19 virus to our communities and families no services are being held at the cathedral. However you can download our services from the News Section of this website and share at home with the ongoing prayers of the cathedral community.Please stay in touch through the cathedral social media platforms as we all support one another through these very challenging times.
Service Listing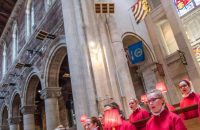 Belfast City Cathedral
As the city's Cathedral we offer a place to worship, relax and more
Volunteers are the lifeblood of the Cathedral.
At Belfast Cathedral we have a team of volunteers who play a huge part in the day to day running of the building, and offer a warm welcome to all who come here.
Find Out More