Welcome to the website of Belfast Cathedral. Our current opening hours are Tuesday-Saturday 10am-4pm, we are closed on Mondays. Sunday service times are 11am Choral Eucharist and 3.30pm Choral Evensong. Please see COVID Safety guidelines in the news section of our website.
At Belfast Cathedral, both on-line and within the walls of our beautiful building, we remain a place of Christian faith, prayer and hope. Please check the 'Worship' section of our website for up-to-date service times from Tuesday-Friday and on Sundays.
Find Out More
13:00
Afternoon Prayer
Afternoon Prayer is an opportunity for quiet prayer and reflection at the heart of the day, and usually lasts no more than 15 minutes.
Service Listing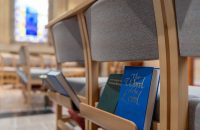 Belfast City Cathedral
As the city's Cathedral we offer a place to worship, relax and more
Volunteers are the lifeblood of the Cathedral.
At Belfast Cathedral we have a team of volunteers who play a huge part in the day to day running of the building, and offer a warm welcome to all who come here.
Find Out More