Over past months our city and society have faced unprecedented challenges as we have lived through the Coronavirus Covid-19 pandemic. After a welcome relaxation of restrictions over the summer months, some new guidelines have been introduced in Belfast to avoid a second wave of the pandemic. We warmly welcome you to Belfast Cathedral, for our Sunday services or as a Visitor. However when inside the cathedral building, we ask you to observe social distancing, wear a mask (unless exempt) and follow hygiene regulations. Never the less, we hope you will find our cathedral remains a place of stunning beauty, worship and reflection.
Sunday services at Belfast Cathedral have resumed, with space for all to join us. From the start of September Choral Morning Service (with the full cathedral choir) will be held at 11am. At 3.30pm the Cathedral Choir will sing Choral Evensong. At all services there will be social distancing of 2m between those from different households and no congregational singing. However each service will feature cathedral organ music, full choral singing from the choir, and above all the opportunity for shared prayer, reflection and worship. The cathedral is open to all visitors 11am to 3pm Monday to Thursday, and 11am to 4pm on Friday and Saturdays. Sanitized Audio Tours (in 8 languages) are available. Please check for current weekday entrance charges. The stunning Chapel of the Holy Spirit remains open and free to access for prayer, throughout cathedral opening hours. At Belfast Cathedral, both on-line and within the walls of our beautiful building we remain a place of christian faith, prayer and hope for all who are rebuilding their lives and livelihoods through the experience of Covid-19.
Find Out More
00:00 - 00:00
Please find our "on-line services" in the News Section of this website
Following government COVID-19 guidance no weekly services are being held at the cathedral. You can download our services from the News Section of this website and share at home with the ongoing prayers of the cathedral community.Please stay in touch through the cathedral social media platforms as we all support one another through these very challenging times.
Service Listing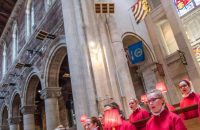 Belfast City Cathedral
As the city's Cathedral we offer a place to worship, relax and more
Volunteers are the lifeblood of the Cathedral.
At Belfast Cathedral we have a team of volunteers who play a huge part in the day to day running of the building, and offer a warm welcome to all who come here.
Find Out More