Step off Belfast's busy streets and into a timeless place of prayer to explore its history and to enjoy quiet moments of reflection in this beautiful place.
Here you will discover the many aspects of daily life in this special place, whether you are a visitor, a pilgrim, a citizen of Belfast or a regular member of the Cathedral community.
Find Out More
09:00
The 2019 Annual Black Santa Sit-Out!
Read More
13:00
Cathedral Prayers
Lunchtime prayers are an opportunity for quiet prayer and reflection at the heart of the day, and usually lasts no more than 10 minutes.
Service Listing
17:30 - 17:50
Evening Prayer
Everyone is welcome to join us at the end of the day for a service including prayers, psalms and Bible passages, taking place in the Chapel of the Holy Spirit
Service Listing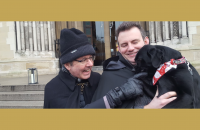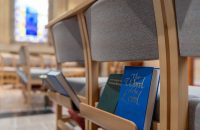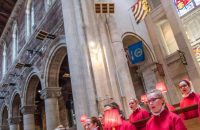 Belfast City Cathedral
As the city's Cathedral we offer a place to worship, relax and more
Volunteers are the lifeblood of the Cathedral.
At Belfast Cathedral we have a team of volunteers who play a huge part in the day to day running of the building, and offer a warm welcome to all who come here.
Find Out More