Over past months our city and society have faced unprecedented challenges as we have lived through the Coronavirus Covid-19 pandemic. Regrettably, the Cathedral is closed to weekday and weekend visitors until 11th December, 2020. More information will follow closer to the time. We hope that at our online Sunday Services you will still find our Cathedral to be a place of stunning beauty, worship and reflection. 11.00am On line Sunday Services for 29th November and 6th December can be accessed on the cathedral Facebook page (Please click on the Facebook icon at the foot of this website). Further services in December and for the Christmas period will depend on how governmental restrictions are eased. Please regularly check our website and social media channels in order to stay up-to-date.
Sunday services at Belfast Cathedral continue online at 11am, please feel welcome to join us through our Facebook page for the opportunity for shared prayer, reflection and worship. At Belfast Cathedral, both on-line and within the walls of our beautiful building we remain a place of Christian faith, prayer and hope for all who are rebuilding their lives and livelihoods through the experience of Covid-19.
Find Out More
00:00 - 00:00
Please find our "on-line services" in the News Section of this website
Following government COVID-19 guidance no weekly services are being held at the cathedral. You can download our services from the News Section of this website and share at home with the ongoing prayers of the cathedral community.Please stay in touch through the cathedral social media platforms as we all support one another through these very challenging times.
Service Listing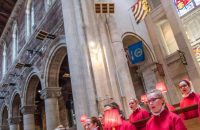 Belfast City Cathedral
As the city's Cathedral we offer a place to worship, relax and more
Volunteers are the lifeblood of the Cathedral.
At Belfast Cathedral we have a team of volunteers who play a huge part in the day to day running of the building, and offer a warm welcome to all who come here.
Find Out More