Welcome to the website of Belfast Cathedral. The cathedral is open to welcome visitors and tourists Monday to Saturday from 10.30am - 4.00pm. Sunday service times are 11am Choral Eucharist and 3.30pm Choral Evensong. The Chapel of the Holy Spirit is set apart as a place of prayer. For those who wish to explore the rest of the cathedral, there is a small charge to assist with the significant costs of maintaining the life and ministry of this amazing place.
At Belfast Cathedral, we remain a place of Christian faith, prayer and hope. Please check the 'Worship' section of our website for up-to-date service times from Tuesday-Friday and on Sundays.
Find Out More
11:00
Choral Eucharist
Please join us at the Cathedral for the Sunday 11am Choral Eucharist or stream from home. Remember to wear your mask and maintain social distancing if attending in person.
Service Listing
15:30
Choral Evensong
Choral Evensong is a beautiful traditional service during which the 'song' of voices sounding together in harmony is heard at the 'even' point between the active day and restful night, allowing listeners time for restful contemplation at the end of a busy day. The service is led by the cathedral choir and includes the bible readings for the day, prayers and congregational hymns. Details of the music can be found on the Music and Services List, either on the News or Music Overview pages of the website.
Service Listing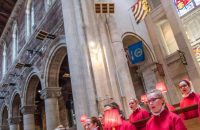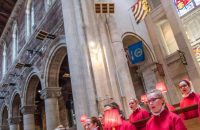 Upcoming Events
Belfast City Cathedral
As the city's Cathedral we offer a place to worship, relax and more
Volunteers are the lifeblood of the Cathedral.
At Belfast Cathedral we have a team of volunteers who play a huge part in the day to day running of the building, and offer a warm welcome to all who come here.
Find Out More