Step off Belfast's busy streets and into a timeless place of prayer to explore its history and to enjoy quiet moments of reflection in this beautiful place.
Here you will discover the many aspects of daily life in this special place, whether you are a visitor, a pilgrim, a citizen of Belfast or a regular member of the Cathedral community.
Find Out More
08:10 - 08:50
Morning Prayers with Holy Communion
Everyone is welcome to join us at the start of the day for a spoken service combining prayers, psalms and Bible passages and bread and wine is shared. If you don't receive communion you may still come forward for a prater of blessing at that point in the service in an offering of thanksgiving for the start of a new day
Service Listing
13:00
Cathedral Prayers
Lunchtime prayers are an opportunity for quiet prayer and reflection at the heart of the day, and usually lasts no more than 10 minutes.
Service Listing
17:30
Choral Evensong
Choral Evensong is a beautiful tradition during which the 'song' of voices sounding together in harmony is heard at the 'even' point between the active day and restful night, allowing listeners time for restful contemplation.
Service Listing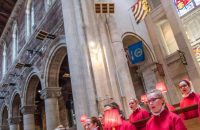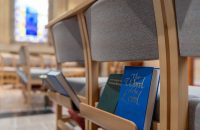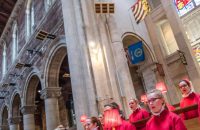 Belfast City Cathedral
As the city's Cathedral we offer a place to worship, relax and more
Volunteers are the lifeblood of the Cathedral.
At Belfast Cathedral we have a team of volunteers who play a huge part in the day to day running of the building, and offer a warm welcome to all who come here.
Find Out More