St Anne's has been a place of worship for over 114 years and still represents the best that Belfast has to offer in terms of worship, arts, music and hope.
Belfast Cathedral is the only cathedral in Northern Ireland to maintain a pattern of daily sung services. The cathedral choir, made up of boy and girl choristers and adult Lay Clerks and Choral Scholars, sings for four services each week - Evensong on Thursday, Friday and Sunday , and the Eucharist on Sunday morning.
In addition to its liturgical duties, the choir gives concerts, broadcasts, makes recordings and tours in Northern Ireland and abroad.
Introducing
Our Choir
Our boy and girl choristers are drawn from schools all over Belfast, and come to the Cathedral between two and five times a week for rehearsals, services, singing lessons and music theory instruction.
Find Out More
Hire the Choir
Join the Choir
Cathedral Staff Members
Introducing some of the friendly faces you will see around the cathedral
Director of Music
Matthew Owens
Organ Scholar
William Forrest
Organist Emeritus
Ian Barber
10:00
Holy Communion (BCP)
Holy Communion is the start of Sunday worship in the Cathedral. All are invited to share in bible readings, prayer and the Eucharist of bread and wine.
Service Listing
11:00
Sung Eucharist
Sung Eucharist is the principle morning service of the Cathedral with the addition of glorious choral pieces and organ music, hymns in which the congregation joins the singing, and the sermon – a service during which Bible readings and prayers are said, leading to the receiving of the bread and wine. Those who don't wish to receive communion are still invited to come forward to receive a blessing. Details of the music can be found on the Music and Services List on the News or Music Overview sections of the website.
Service Listing
15:30
Choral Evensong
Choral Evensong is a beautiful tradition during which the 'song' of voices sounding together in harmony is heard at the 'even' point between the active day and restful night, allowing listeners time for restful contemplation. The highlight of the Anglican tradition, all are invited to join us. The service includes sung psalms, canticles and an anthem, enhancing the scripture readings and prayers offered along with two congregational hymns. Details of the music can be found in the Music and Services List on the Music Overview or News sections of the website.
Service Listing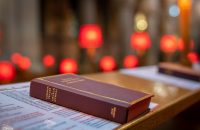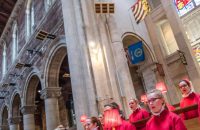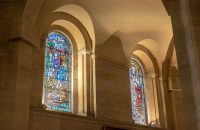 Upcoming Events