Belfast Cathedral has been a place of worship for over 114 years and still represents the best that Belfast has to offer in terms of worship, arts, music and hope.
Belfast Cathedral strives to maintain a high standard of choral music.  With the appointment of a new Master of Music, the cathedral Adult Choir and Choristers' Choirs are in the process of being re-established, to ensure the continuation of a century old tradition of cathedral choral music at Belfast Cathedral.
Currently Sunday worship consists of Cathedral Morning Eucharist (11am) and Cathedral Evening Prayer or Evensong (3.30pm).
Please see the cathedral's Facebook page for the most up to date information:
http://www,Facebook.com/BelfastCathedral
Cathedral Staff Members
Introducing some of the friendly faces you will see around the cathedral
13:00 - 14:00
The Church's Ministry of Healing Service
This healing service takes place on Fridays in the Cathedral Hall
Service Listing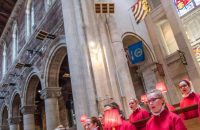 Upcoming Events