A big thank you from Black Santa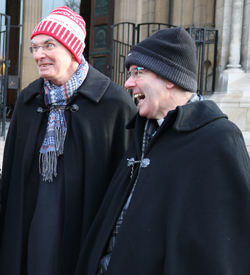 A big thank you from Black Santa, Dean of Belfast Stephen Forde, for all the support and hard work which went into the 2018 Sit-out Appeal.
Bank holidays mean the total raised is still to be finalised, but Dean Forde is confident that this year's Appeal will have surpassed last year's tally of £120,000.
"I would like to thank all those who helped count the pennies, pounds and notes, the Canons of the Cathedral and other clergy who supported me on the steps, those who kept us warm with hot drinks, and most importantly the people of Belfast and beyond who supported Black Santa all the way through," Dean Forde said.
"I thoroughly enjoyed my first Black Santa Sit-out."