Agnes retires after almost 50 years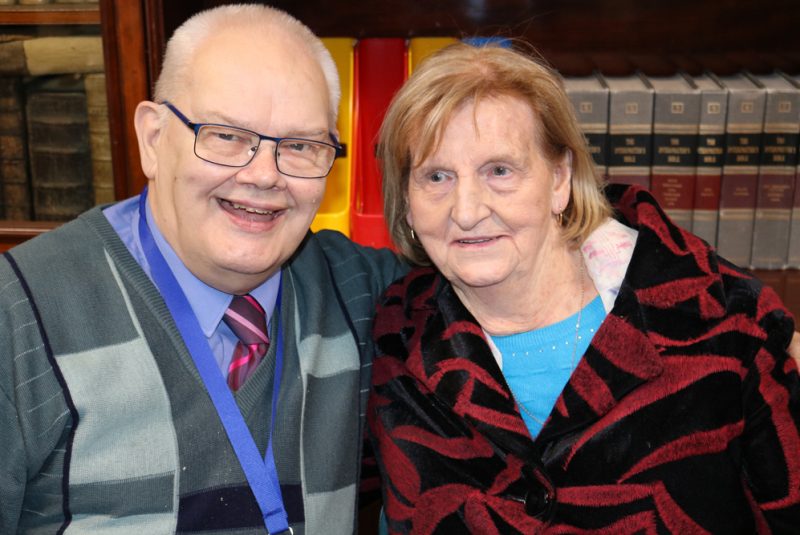 Agnes Laffey and Ronnie Lawrenson at Agnes's retirement party on November 27.
She has worked with five (and a bit) Deans over a period of almost 50 years, but Belfast Cathedral sexton Agnes Laffey has finally set aside her mop and Marigolds for a much deserved retirement. (Photo Album)
Agnes, who remains coy about her age but does admit to being over 78, worked at Norwich Union Insurance before taking up the role of sexton at St Anne's Cathedral.
This was around 1970, just as Dean Cuthbert Peacocke (he is the bit) was leaving and Dean Sammy Crooks, the founder of the Black Santa tradition, was moving into the Deanery.
Agnes had been a parishioner of St Anne's, and married her late husband James in the Cathedral in October 1952. James served in the Army with the North Irish Horse Regiment, and for eight years Agnes travelled with James wherever he was based.
They settled in Newtownabbey, and had two daughters, Gail, and the late Allison. Both girls were married in the Cathedral.  Agnes is now proud grandmother to seven, and great grandmother to five.
Life in St Anne's Cathedral, which was consecrated in 1904, was a little more sedate in Agnes's early days as sexton. "There were a lot less people working in the Cathedral then," said Agnes. "We were like a big family."
Agnes said it is because of her passion for St Anne's that she has continued to work long after many others may have decided to sit back and take it easy.
"I love it. I love everything about it. I love the crowds of people, every Dean that I have met, I was very friendly with all of them," she said.
Agnes, who now lives in the Fortwilliam area, will return regularly to the Cathedral to attend services as a parishioner, but first of all she and Gail are going for a little holiday to York and Harrowgate, where she will indulge her hobbies of shopping and style!
On Tuesday morning, Dean Stephen Forde and staff at St Anne's said farewell to Agnes at a party in the library. Dean Forde said it was a 'momentous occasion.' "Agnes has been part of the life of Belfast Cathedral for decades, working with Dean Sammy Crooks, Dean Jack Shearer, Dean Houston McKelvey, Dean John Mann and myself," he said. (At this point Agnes interjected to point out that she had also worked briefly with Dean Peacocke!)
"Today we want to thank you for everything that you have done for all the people you have seen through this place, for your friendly smile, your happy welcome, and for making sure the rest of us  were in the right place at the right time, for all you have organised and for all the cups of tea!" the Dean added.
Dean Forde presented a gift and a card signed by all the staff before helping Agnes and Gail cut a lovely retirement cake.
Have a very happy retirement Agnes, from everyone at Belfast Cathedral!