Archive film shows David's work on the high seas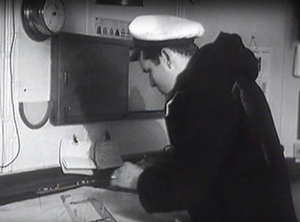 In 1967, David Alexander, Belfast Cathedral's recently retired Head Verger, was on the crew of the SS Carrigan Head which won the annual race to Chicago in the Great Lakes after the winter freeze-up.
Joining David, the ship's 2nd Officer / Navigator, and the rest of the crew for the six week voyage was a team from BBC Northern Ireland.
Their footage formed the basis of a BBC documentary, shown on television in 1967, which you can watch online HERE.
Although not identified by name, David, a former naval officer and marine pilot, features in the film, plotting courses on charts south of Newfoundland, navigating through the ice fields, and on deck going through some locks.
The film made is certainly a fascinating insight into the working life of David and his fellow officers and crew.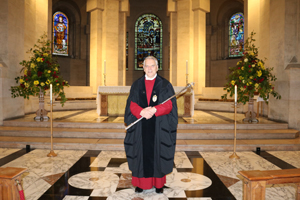 David recalled that when the ship reached Detroit, the BBC team took time out to interview the Detroit Cougars Football team, which was in fact made up of members of east Belfast football club Glentoran. The 18 players represented the City of Detroit in a tournament which aimed to introduce the sport of soccer to North America. Find out more HERE.
As you watch the SS Carrigan Head navigate ice fields on its way to Chicago, it is clear where David acquired the calm head needed to be a Head Verger at St Anne's!