Billy Adair Memorial Organ Scholar Appointed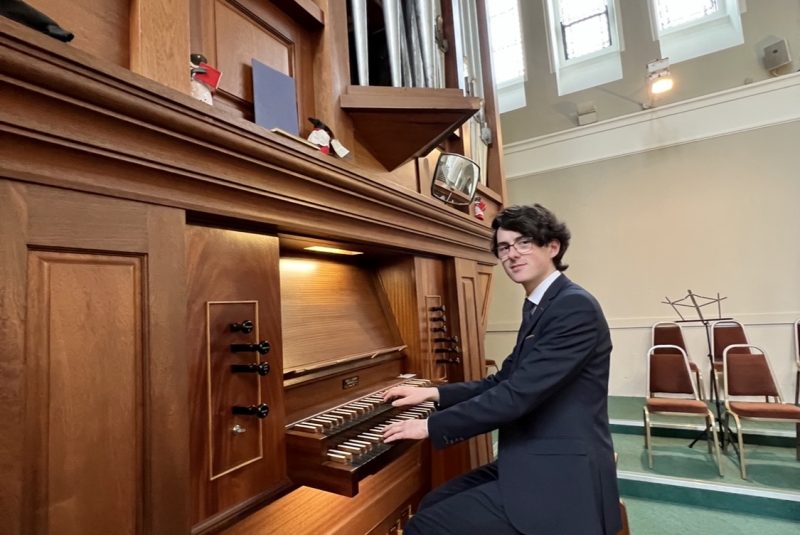 Here at the Cathedral we are delighted to welcome Darragh Magee to join our Music Department family as the Billy Adair Memorial Organ Scholar.
Darragh, a drummer and organist from Hilltown, County Down, is currently based in Belfast. His musical education began during early primary school, when he began receiving tuition on the drum kit from local musician, Kieth Kinney.
Following the end of primary school, Darragh became a student at St Colman's College, Violet Hill, Newry. It was here that he was exposed to the world of sacred music, beginning with the school choir's performance of Rutter's Requiem during his first year. Throughout his time at Violet Hill, Darragh also sang in acclaimed performances of Pergolesi's Magnificat and Fauré's Requiem.
As a member of the St Colman's school choir, Darragh sang at a range of major services in Newry Cathedral, including the annual commitments of the Mass of Chrism, and Ash Wednesday. It was during these services that he was first introduced to the pipe organ in a liturgical context, observing the high standards set by then organ scholars at St Colman's; Conor McGlone and Eoin Cassidy. Darragh also sang with the school choir in the annual Evening Prayer service in Newry Cathedral, involving 4 part unaccompanied Gregorian chant.
At the age of 14 Darragh played the drum kit in the school's production of Bernstein's West Side Story, then later in Elton John's Billy Elliot. More recently, Darragh has been active as a drummer in a professional context - playing drums and percussion for a range of musicals, the "sing a new song" programme in Armagh, and school shows. In addition, Darragh is also the drummer of the rock band "Overgrown", of Newry origin, who are working towards the release of their first EP. Overgrown have performed in various venues, including the RDS Concert Hall, Dublin, in 2022.
Following the delayed completion of his Grade 8 drums in the wake of the COVID 19 pandemic, Darragh set out to take on a new challenge. Having been inspired by the organ throughout his time in the choir, he commenced organ tuition under Mr Colm Murphy of St Patrick's RC Cathedral Armagh in February 2022, receiving lessons on the 2 manual Kenneth Jones organ of the St Colman's College Chapel. Darragh has progressed quickly through the duration of his organ studies to date, winning the Junior Class in the Newry Organ Feis in 2022 and 2023, attaining a distinction in Grade V organ in June 2023, and winning the Junior Class of the Northern Ireland International Organ Competition in August 2023.

During 2022 and 2023; Darragh has been on a rota of organists providing music for Holy Cross Abbey in Rostrevor, provided music for a range of services in the school chapel of St Colman's - often working with singers, and accompanied the choir of St Colman's in Newry Cathedral. In addition to this, Darragh occasionally sang in the choir of St Patrick's Cathedral RC Armagh, played organ during major services, and also played carillon for Christmas Eve mass in 2022, which was broadcast on RTÉ television and Eurovision. Darragh also regularly sang in his local parish choir, St John's Ballymaghery in Hilltown. 
As of September 2023, Darragh has commenced studying Electrical and Electronic Engineering at Queen's University Belfast, and aspires to a career as either an airline pilot, or as an electrical engineer - while also wishing to remain very engaged in the world of music in addition to this.
Outside of music, Darragh's interests include; aerial photography/videography - (being the owner and pilot of a DJI quadcopter), video production, working the family farm, aviation, and anything involving technology - including organ building. 
Commenting on the Scholarship, Darragh said 'The Billy Adair Memorial Scholarship will enable me to continue my progression in studying the organ, and provide me with an array of experience throughout the year in working in a highly active Cathedral Music Department. I would like to express my sincerest thanks to the Adair family for their moving act of generosity in providing this scholarship, and I'm honoured to be the first recipient.'
Organist and Master of Music, Mr Jack Wilson, commented 'I am delighted that Darragh will be joining our Music Department team this September. He has already achieved a significant amount in his short organ playing career, and I look forward to the valuable contributions that he will make to the worship and musical life of our Cathedral community.'