Canon in Residence – Gareth Harron
Being a working cathedral in a busy and changing city is a challenge, and part of the aim of the Canon Residency days is to make clear our position as a venue of welcome and support. While attracting visitors to marvel at the beauty of architecture and craft is wonderful, it is also our aim to be approachable; a place of reflection, prayer and community. It's a challenge Canon Gareth Harron understands from his own parish in Holywood, which operates under the slogan 'Down to Earth,' to reinforce that grandeur of setting doesn't prevent real and human conversations from happening.
It's a role Canon Harron has taken on with aplomb at the Cathedral. Only installed in 2017, when he exchanged the red cassock of Dromore Cathedral for our very own blue, he has long been involved with the Church's Ministry of Healing which we host every Friday at 1pm in the Chapel of Unity. This December's upcoming Black Santa Sit Out will also be his fourth, and is always a chance for our canons to meet the people of Belfast, and visitors to the city from near and far.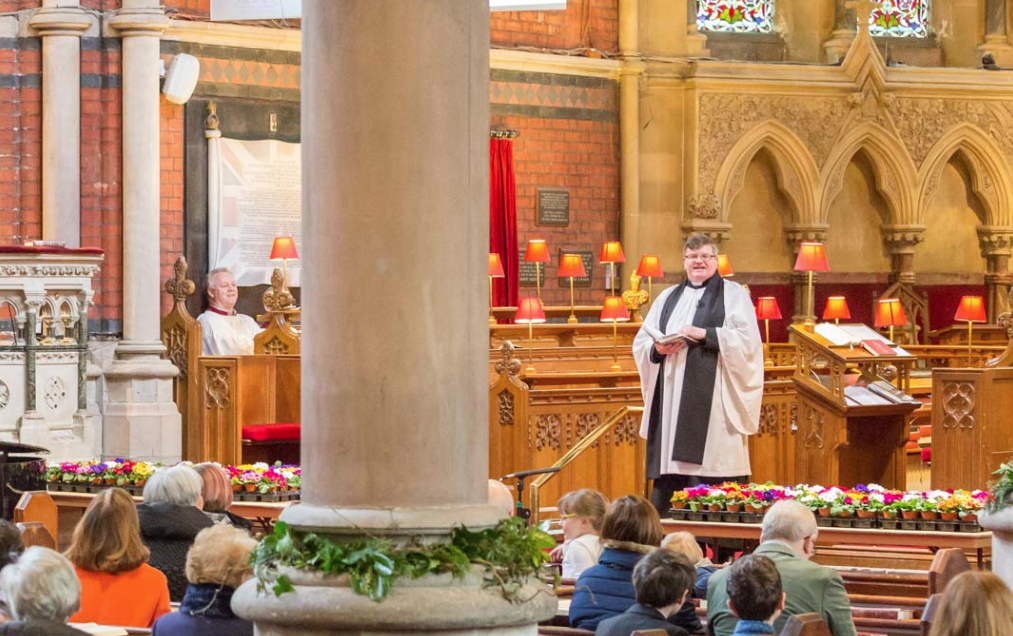 In a wide ranging conversation, Canon Harron talks of the cathedral as a 'focal point for the whole of Northern Ireland,' and recollects attending many civic services where the attention of the whole country was turned towards the Cathedral. Doubtless, this will be the case again during the upcoming Culture Night and Day, although Canon Harron won't be able to join us as Holywood will be enjoying their very own event concurrently.
Of course, there is always a little connection between Belfast Cathedral and Holywood Parish – Morris Harding who completed many wood carvings in the Cathedral lived opposite St Philip & St James' Church. Canon Harron is also pleased to report that they possess a carving of St Brigid, carved by the same woman responsible for much of the Cathedral's own masonry, Rosalind Praeger.
Canon Harron lives in a beautiful part of the world, with his wife Ruth and her vast library of cookbooks. They are kindly allowed to reside in their house by a 'ridiculous' dachshund named Rudi, along with a rotating cast of ducks, hens, hamsters and giant European rabbits. If you can't catch him at the Cathedral or Holywood, you can always look for Canon Harron at a rugby match ('spectating only!'), out birding or flying his drone.