Clergy hold service in honour of Rev. John Anderson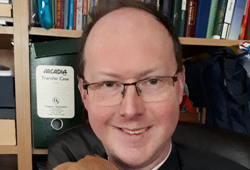 On Wednesday 21 April clergy from the Archdeaconry of Belfast gathered in the cathedral for a service of reflection, remembrance and prayer in memory of the Reverend John Anderson, Rector of Billy and Derrykeighan, who died on Saturday 17 April due to Covid. At 11am, the time Bishop George Davison was conducting John's funeral service, prayers of thanksgiving for John's life and ministry, and support for his family were offered by a socially distanced congregation of John's colleagues.
The service was organised and led by the Venerable Barry Forde, Archdeacon of Belfast, and the Very Reverend Stephen Forde, Dean of Belfast. Under normal circumstances clergy would gather and robe out of respect at the funeral of a colleague. However, under the restrictions at present, Bishop George asked each of the 3 archdeaconries in Connor diocese to hold a service of remembrance to uphold John's family and parish while the funeral would be taking place.
It was a solemn occasion, punctuated with moments of silent prayer and reflection, marking the untimely death of a faithful priest and pastor, and a beloved son, husband, father and brother. Yet, in the midst of sadness, the emphasis on our Easter Resurrection faith provided a light of comfort and hope.
Please continue to remember John's wife Eleanor, children Simon, Hannah and Emma, mother Jean, brother Philip, and the wider family and parish community in prayer in these difficult and painful days.
Rev John Anderson Service of Remembrance and Reflection
Download