Dean Reflects – The Week the World Changed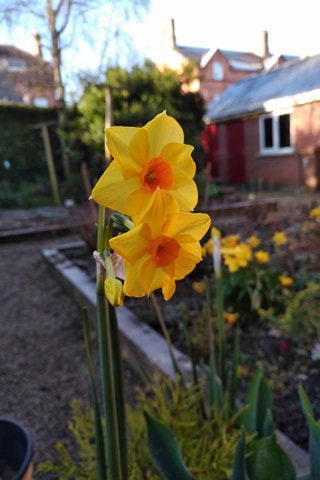 There is a famous saying that "a week is a long time in politics". For people across our land, within our city and here at Belfast Cathedral everything has changed over the past seven days. Since January we have watched as  COVID-19 caused lockdown in China, then South Korea, in Iran and the middle East, and then ever nearer to home in Italy, across France and Spain, and then in the Irish Republic. But this week, like an incoming tide, the impact of the virus has transformed our own lives. Supermarket shelves have emptied, schools are shutting down. Those who can are encouraged to work from home (small children at their feet!). Cafes, cinemas, leisure centres and museums have all closed.
At for us at the cathedral all tourist events have been cancelled and all services suspended. There is a quiet about the city streets which are half abandoned even as the spring sunshine begins to warm the pavements and encourages daffodils to bloom.  And for those who are being trained up for front line duties with the Health Service, and those who have been laid off from their jobs, or put on short time working, the future is a place of uncertain worry.
And yet, surprisingly out of the gloom we realise that Sunday is Mother's Day, or Mothering Sunday. This year there will be no lunches in crowded restaurants, or hotel breaks. It may even prove to be as difficult to buy a bunch of flowers as to track down a packet of loo roll! But in the church Mothering Sunday is always about relaxing the serious days of Lent with gifts and flowers and above all a deep sense of thanksgiving. We give thanks for those who sustain us and care about us: our mothers whether still with us, or held precious in our memories, who would sacrifice much so that we could have a little more, or get on better, or have reason to rejoice. In a wider sense we also give thanks for the mothering of the churches which give us a reason for life, and cause for hope, because they give birth to faith and new life in Jesus.
In the face of Coronavirus, you might ask "How could there be reason to give thanks for anything?" But there is! Just like the yellow daffodils which have broken through the dark winter soil, so in strange and bewildering times, generosity is bursting into bloom. Health workers and scientists are taking risks with their own lives to rescue and save other lives. Neighbours are watching out for one another, and checking on those who are older or alone. Busy people discover they have time to spend with their families, and Christianity promises us that God whose unending love for you and I is greater and more powerful than any virus or any fear we face, remains with us.
It is St Paul who urges (1 Thessalonians 5) "Acknowledge those who work hard among you, who care for you in the Lord…encourage the disheartened, help the weak, be patient with everyone…Rejoice always, pray continually, give thanks in all circumstances…and may the God of peace sanctify you through and through" –NIV).
No matter how hard it will be over the coming weeks, may we have a certain faith that God will hold us  in the palm of his hand.
PS Although the cathedral building has now been closed following government guidance, you will be able to join with us and one another by downloading Sunday's services and sermon from the News section of the cathedral website.