Dean's tribute to outgoing Leader of Corrymeela
The Dean of Belfast, the Very Rev Stephen Forde, has extended his best wishes to Pádraig Ó Tuama, Leader of the Corrymeela Community, who ends his term in April.
Pádraig, from Cork, has been a member of Corrymeela since 2006, and has been leader since 2014. Once his term ends, he will continue as a member of the community.
Dean Forde said: I have very much enjoyed working with Pádraig and was very honoured when he wrote a special Collect for the Dean of Belfast. "I wish Pádraig well for the future and look forward to working with his successor."
Corrymeela is Northern Ireland's oldest peace and reconciliation organisation, working for reconciliation for more than five decades.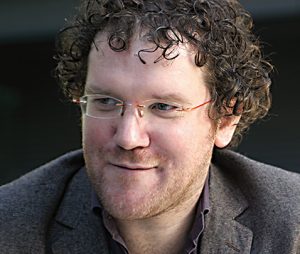 Pádraig's time as Leader has been marked by his characteristic interest in how language, story, gospel and dialogue can support the ongoing work of reconciliation and peace. His interests in poetry, religion and conflict have influenced his public voice on behalf of Corrymeela, bringing the centre's message of Transforming Division through Human Encounter to thousands, through programmes, publications, trainings and broadcasts, both at home and abroad.
Pádraig was the first Catholic and the first LGBT person to lead Corrymeela. Long established as an ecumenical community, Corrymeela has, since 1980, been a place of support and amplification for LGBT people seeking increased civic safety and voice.
Kate Pettis, Chair of the Corrymeela Council noted: "Through initiatives incorporating retreats, a resource named Spirituality of Conflict, civic engagements on topics of War, Conflict and Memory, training on community dialogue and storytelling, Pádraig's leadership has been marked by the desire for encounter, faith and community to be deepened."
Pádraig said: "It has been one of the deepest honours of my life to serve Corrymeela in this role. I have been a member of the Community for a long time, and this will continue. I look forward to continuing my membership and supporting my successor."
As well as continuing as a member of Corrymeela, Pádraig  will also continue in leading occasional retreats at the Ballycastle centre. He has publishing and broadcasting opportunities ahead of him, including a new poetry venture with the On Being Project, established by Krista Tippett.
Information about the appointment of a new person in the role of Leader of the Corrymeela Community will be advertised on the Corrymeela website in mid-February.