Good Samaritan Service 2020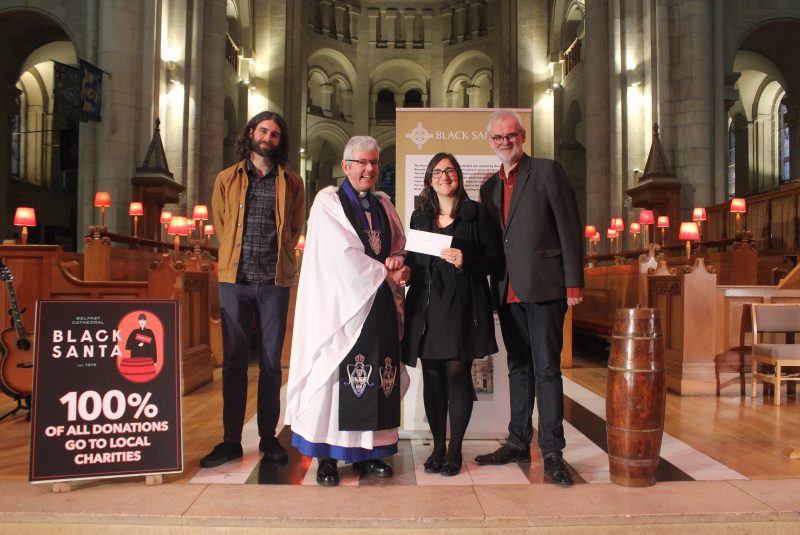 The Good Samaritan Service, last Sunday 9th February, was a beautiful celebration for the £170,000 raised on the steps of Belfast Cathedral during the Annual Black Santa Christmas Sit-Out.
The Cathedral was filled with the guests and representatives from 198 charities from across Northern Ireland. The donations distributed were over £170,000 in total and were presented by actor and comedian Tim McGarry of The Blame Game and Give My Head Peace. This was the 43rd year of the Black Santa Appeal, which helps support a range of charities across Northern Ireland. The Dean of Belfast, Rev Stephen Forde, paid tribute to all those who had donated so generously. This year's giving focused particularly on charities involved in the areas of homelessness, mental health and the refugee community. Tim McGarry, who handed out the cheques, said that Black Santa Sit-Out made him proud to come from Belfast, describing himself as a long and true supporter of Black Santa Appeal. The Cathedral Sexton, Jonny Brooks, currently appearing as a contestant on ITV's The Voice UK, sang a version of Van Morrison's - Sweet Thing, during the service.
This years success of the Black Santa Appeal and Good Samaritan Service was a true display of generosity from the people of Belfast. The Service ended with a glowing appreciation to all of those who continue to support others and their community.