In Thanksgiving for the life of Bob Fryer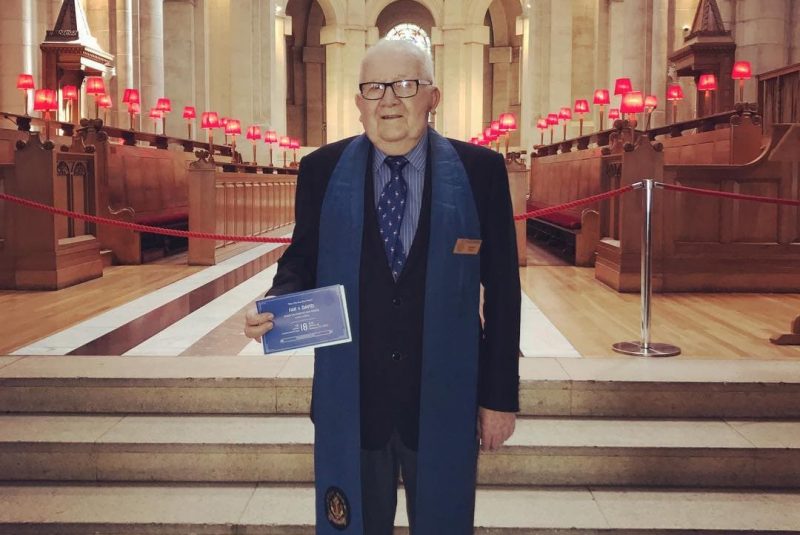 The Cathedral community was saddened to learn of the death of Robert (Bob) Fryer on 5th October, 2022. Bob's funeral took place on Tuesday 11th October, and the cathedral was represented by Canon Raymond Fox.
Bob was one of the longest serving of our Cathedral Stewards, and was usually to be found at the cathedral on a Thursday. In 1996, the late Dean Jack Shearer made an television appeal for volunteers to join the stewards' team at St Anne's. Bob responded, and continued as a steward until September 2020 when he decided that, after 24 years, it was time to take a rest.
Across the years, Bob showed people from around the world the features of St Anne's Cathedral and explained the history of the building, delighting visitors with anecdotes and stories from his past. Such was his appeal, that Bob received cards of appreciation from many countries including the United States, England, Scotland and even the Czech Republic. On one occasion those who had been shown around the cathedral by Bob invited him to attend their wedding in Washington DC! Of course Bob accepted.
However, Bob's interests were not limited to Belfast Cathedral. Bob had been a lifelong member of the Boy's Brigade, as anyone who took time to speak with him soon discovered. His shaped his own life around the BB motto of "true Christian manliness".
This was further expressed in the 40 years which Bob served as a Lay Reader in the Church of Ireland. At his retirement as a Lay Reader in 2016, Bob received as special presentation from Bishop Alan Abernethy at St Mary's Church on Belfast's Crumlin Road.
From all who make the family of Belfast Cathedral, and especially from the team of Cathedral Stewards who got to know Bob so well, we extend our sympathy and offer our prayers to Bob's surviving family and all who will miss him the most.