Remembrance Sunday Morning Service
We welcome you to join us in person at 10.55am for Belfast Cathedral's Remembrance Sunday Morning Service on Sunday 8th November.
The Cathedral's Service of Remembrance starts at 10.55am. Please be seated by this time. The morning service will include the 2 minute silence at 11am, and later in the service the laying of wreaths.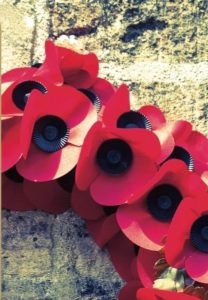 The Preacher is Canon Mark Niblock, Dean's Vicar, and choir anthems include "They shall not grow old" by Douglas Guest and "Lord, thou hast been our refuge" by Ralph Vaughan Williams.
Following guidance issued by the Northern Ireland Executive, all attending are to wear face coverings as they arrive and leave the cathedral, at times when social distancing will be difficult. During the service, while seated at 2 metre distance, members of the congregation are encouraged to wear face coverings.
Please note that seating will be allocated from the front as parishioners arrive.  Those who belong to the same household will be able to sit together. However those from different households will be asked to sit separately. At present the cathedral has seating for 100 worshippers. At the end of the service, the congregation will be guided to leave from the back seats to those at the front.
Whether you are a regular member of the cathedral congregation or a visitor to our city, we welcome you to join us as we share together in prayer, scriptures, reflection and cathedral music.
For those still unable to join us in person, there will be a Live Stream of the service starting at 10.50am. The service will only be available to view while happening (10.50-12noon). We regret that we can no longer provide the service for later viewing.
http://www.facebook.com/BelfastCathedral/
If you are following the service from home, the Order of Service can be downloaded below.
Please be seated by 10.55am.
Remembrance Sunday Morning Prayer 08.11.20
Download