The 1,517 lives lost in the tragic sinking of the Titanic, built here in Belfast, are commemorated in a beautiful hand-crafted funeral pall which was dedicated in St Anne's Cathedral a century after the disaster.
The pall, made of 100 per cent Merino felt, is backed with Irish linen and dyed an indigo blue, evoking an image of the midnight sea in which the Titanic finally came to rest.
This stunning memorial to those who died when the historic ship hit an iceberg in April 1912 has been made by Helen O'Hare and Wilma Kirkpatrick, textile artists at the University of Ulster. The 12ft X 8ft pall was the gift of the Friends of St Anne's Cathedral, and it was dedicated on April, 15th 2012.
A large central cross is fashioned from lots of tiny crosses and hundreds more of these crosses, in different sizes and shapes, each individually stitched in silk, rayon, metallic and cotton threads, fall away towards the velvet rimmed edges of the pall, symbolic of lost lives sinking into the dark ocean.
The theme of the lost lives was inspired by Philip Hammond's new Requiem for the Lost Souls of the Titanic, which was performed for the first time in the Cathedral on April 14, 2012.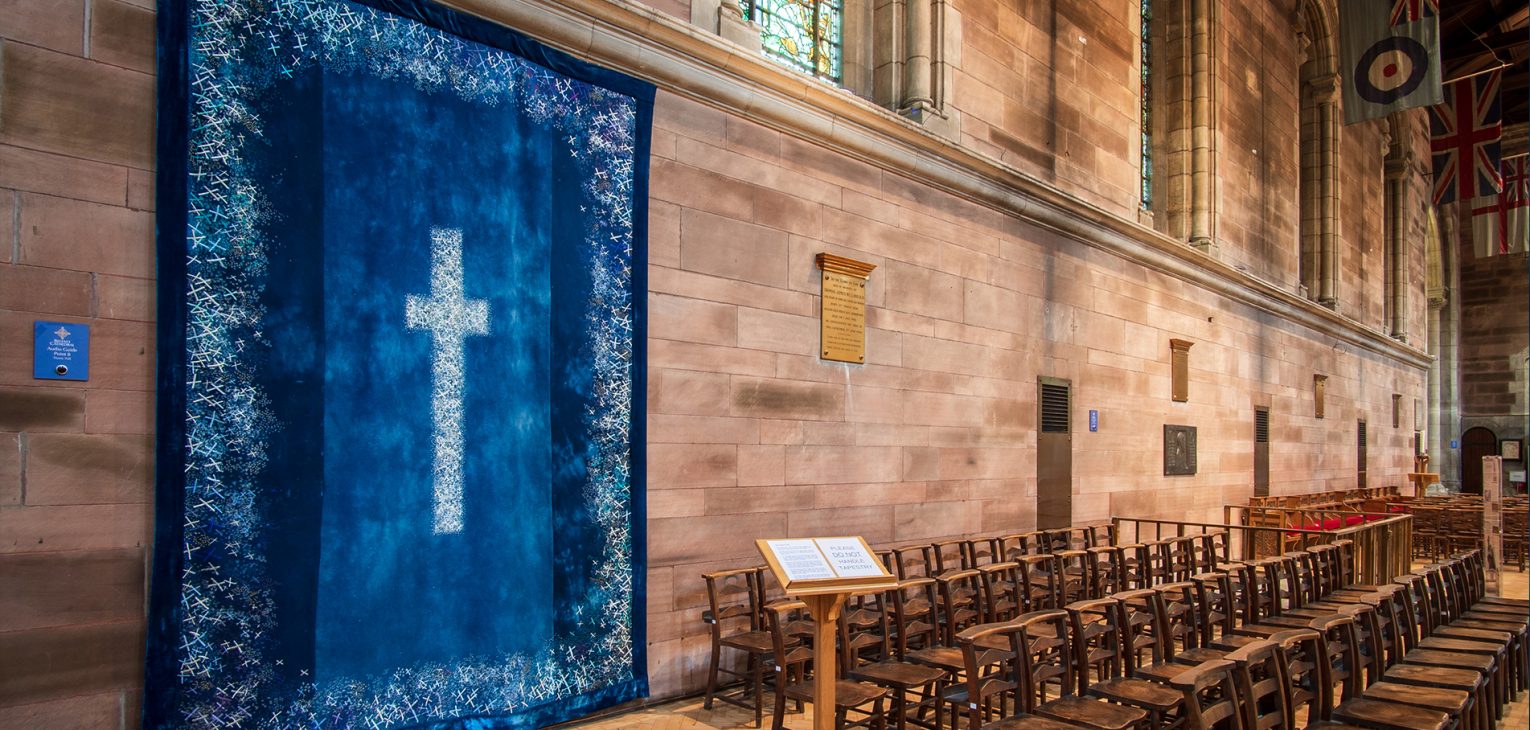 A funeral pall has a cross in the middle and the background is normally violet, but the Titanic Pall picks up some themes from that fateful voyage, namely the midnight sea. The silver and white crosses of different sizes create the impression they are falling into the water. Set among these are more than 1,500 gold crosses and a number of Stars of David – each representing a lost life.
"This is a very special piece of stunning needlework that people will travel to see – from the central cross that sits like lace on water, to its rich velvet border, rippling Irish linen lining and the felt pierced with crosses on a restless indigo sea." – Dean John Mann