At Belfast Cathedral we have a team of volunteers who play a huge part in the day to day running of the building, and offer a warm welcome to all who come here.
Our volunteers come from a wide range of backgrounds – some of whom have had a long association with the Cathedral. Some are retired, others are working, we have students who join us for a short time when they are in Belfast – we welcome people of all ages and different skill sets.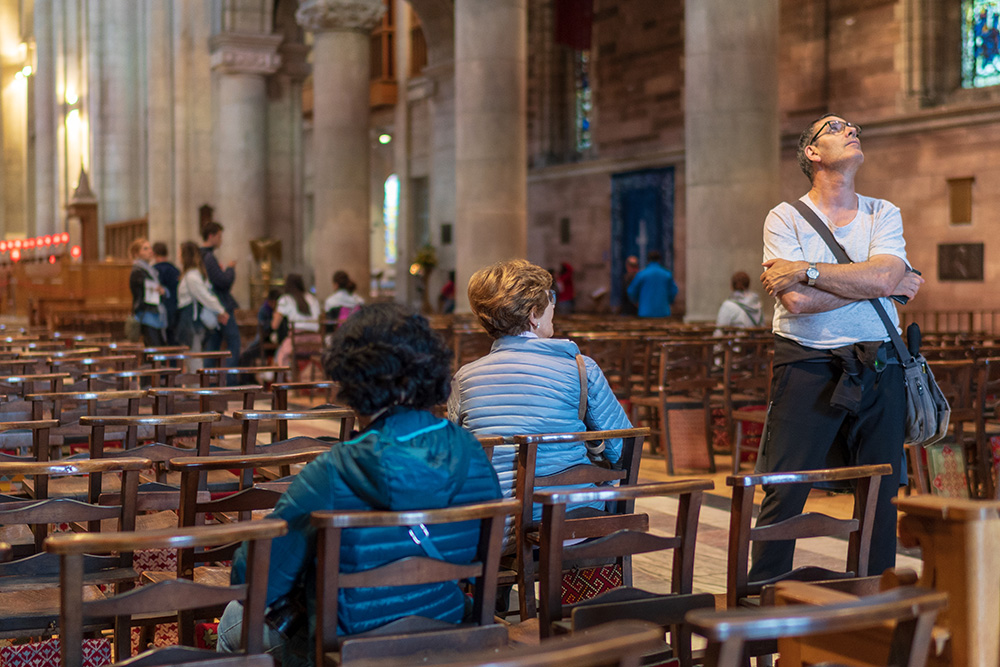 Why Volunteer?
People want to help for many different reasons, for some it may be as an extension of their faith, for others it may stem from a love of the building, its history and architecture.
For many it is a wonderful way to meet people, learn new skills and be part of the Belfast Cathedral community.
Opportunities available
We have a number of volunteering opportunities available, with the main focus being on visitor welcome and tour guiding.
Visitor Welcome Volunteer – as a Welcome Volunteer you are the first person to meet and greet our visitors, and will offer a warm welcome to Belfast Cathedral. We're always on the look-out for enthusiastic individuals to join our team.
Tour Guide – help us to reveal the history of Belfast Cathedral by becoming a Tour Guide. Introduce our visitors to our wonderful works of art and historic memorials, and bring the stories of this important space in Belfast to life.
Event Volunteers – At Belfast Cathedral we have a varied programme of Events throughout the year. Events vary from Christmas Carol Services to Theatrical Performances, and Awards Dinners to Vintage Craft Fairs. You can get involved in setting up for events, co-ordination of suppliers, and the orientation of guests, through to event clear-up and preparing the Cathedral for next day services.
Acting as Vergers – vergers help by taking part in the preparation of the Cathedral for services, and various duties as the service proceeds.
Other options – If you have a specific area of interest within Cathedral life there may be other opportunities we can offer, we're happy to discuss any ideas you might have.
For more information on volunteering or to apply for a role please contact helen@belfastcathedral.org, or phone 02890 328332.
Would you like to Volunteer?
As a volunteer you make an important contribution to the work of the Cathedral, be a part of the Cathedral community by becoming a volunteer - get in touch today.
Get in Touch